Prime Minister Voted Out
Written By Zorigt Dashdorj, 13, September 2017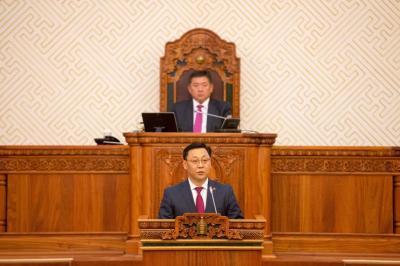 Parliament has voted on 7 September 2017 by 42 votes out of total 76 to have Prime Minister (PM) J.Erdenebat and his entire cabinet resigned. Mongolian People's Party (MPP) has 65 seats in the Parliament and 33 of its parliamentary group voted together with 9 DP MPs and independents to oust the cabinet. The motion to oust the cabinet was submitted by 30 MPP MPs. This is the first time since the democratic changes of 1990 that MPP votes out its own cabinet as stability and steady governance are the trademarks of MPP. However, after the July 2017 Presidential elections things came to a boiling point.
Main reasons mentioned in the motion and expressed during parliamentary deliberations were threefold. First, concession bids, awarded to companies with direct relation to cabinet members, violated conflict of interest laws. Second, failure to include Children's money into 2017 budget. During budget approval process, the Cabinet insisted on 0.2 percent growth in 2017 and increased seven types of taxes. However, economy grew at 5.3 percent and right before the second round of presidential elections in July 2017 the government announced full distribution of Children's money, breaking the budget law. Third, downgrading of credit ratings of Mongolia took place twice during this cabinet's tenure and it is too slow and incompetent to handle the crisis, claimed the motion submitters.
The government response to all three reasons also deserves contemplation. It claims that no new concession awards were given and these were simply decisions to extend, re-approve the old concession agreements. Budget for 2017 was approved by the Parliament itself. Downgradings were fallouts of the previous cabinet's actions and economy actually recovered during this cabinet.

Behind the officially expressed reasons there were also two publicly vented frustrations. First, there is an alleged undercover operation to intimidate and disgrace the Deputy Prime Minister (DPM), the front-runner for the seat of Prime Minister. According to some media reports, allegations that the undercover operation was ordered by PM were made during the meetings of MPP leadership. The case is under investigation and PM vehemently denies any accusations. Secondly, video and audio tapes allegedly having records of MPP high ranking officials discussing the scheme of basically selling government posts to highest bidders. The alleged event took place before 2016 parliamentary elections. MPP officials vehemently deny anything like that ever happened and suggested that the recordings were compiled from recordings of other unrelated topics. Official investigators from Prosecutors office stated that tapes are fake and have been pieced together and nothing has been unearthed to prove that any government position was given for a bribe. However, some individuals allegedly on the tape resigned from official positions and very uneasy feeling about the whole scandal still lingers among the public and MPP members. The MPP MPs and politically active establishment feels the need to clean up the house from these allegations, though fake they could be.
Hence, the government resigned amid all these charges made against it. The new Prime Minister has to be appointed within 30 days. 
​​